Welcome to Pine Ridge Estates
Central Naples Private Acreage Estates
Situated in central Naples between Pine Ridge Rd/Vanderbilt Beach Rd and US41/Goodlette-Frank Rd, Pine Ridge Estates blends non-gated large estate properties and homes with convenient shopping and dining and only a 1.8 mile bike ride or walk to Clam Pass Park, where you can ride the tram through the mangroves to the beach! Surrounded by mature oak trees and vegetation, Pine Ridge Estates is unspoiled by over-development, which is why residents flock to Pine Ridge Estates to enjoy their spacious one to 10 acres lots. It is perhaps no surprise then, that Pine Ridge Estates won best neighborhood in the United States in 2019 as assessed by real estate research firm ATTOM Data Solutions.
What Makes Pine Ridge Estates Stand Out
Premier neighborhood for estate living. Desirable in many respects, Pine Ridge Estates is centrally located in Naples and offers spacious lots and privacy with city proximity.
Expansive estate lots. One to 10 acre lots provide an endless creative storyboard of great homes, pristine architecture and endless possibilities for outdoor living with abundant landscaping. Many of the lots have second structures including guest houses, multi-car and RV garages, outdoor buildings and horse stables providing flexible accommodation that is adaptable to any hobby or lifestyle. Horse owners love this neighborhood for good reason.
Centrally located and only 1 mile to the beach. Biking to the beach in under 15 minutes or hopping in the car for a 5 minute drive is a nice convenience. If you need to stop by Whole Foods or want to have lunch with a friend at the Mercato, you are also a quick 7-8 minute ride away. Most errands will be 5-10 car rides away.
Won Best Neighborhood in the Country in 2019. Based on six criteria, Pine Ridge Estates was highly rated for affordability, home price appreciation, school scores, unemployment rates and property taxes. Properties don't turn over often, so when one one hits the market which checks your boxes, make a move.
Pine Ridge Estates Neighborhood Real Estate Highlights
The Pine Ridge Estates neighborhood is approximately 1.75 square miles of land with roughly 532 single family homes. This area is about 2.7 miles North to South and 1 mile from East to West from US 41 to Goodlette-Frank Road.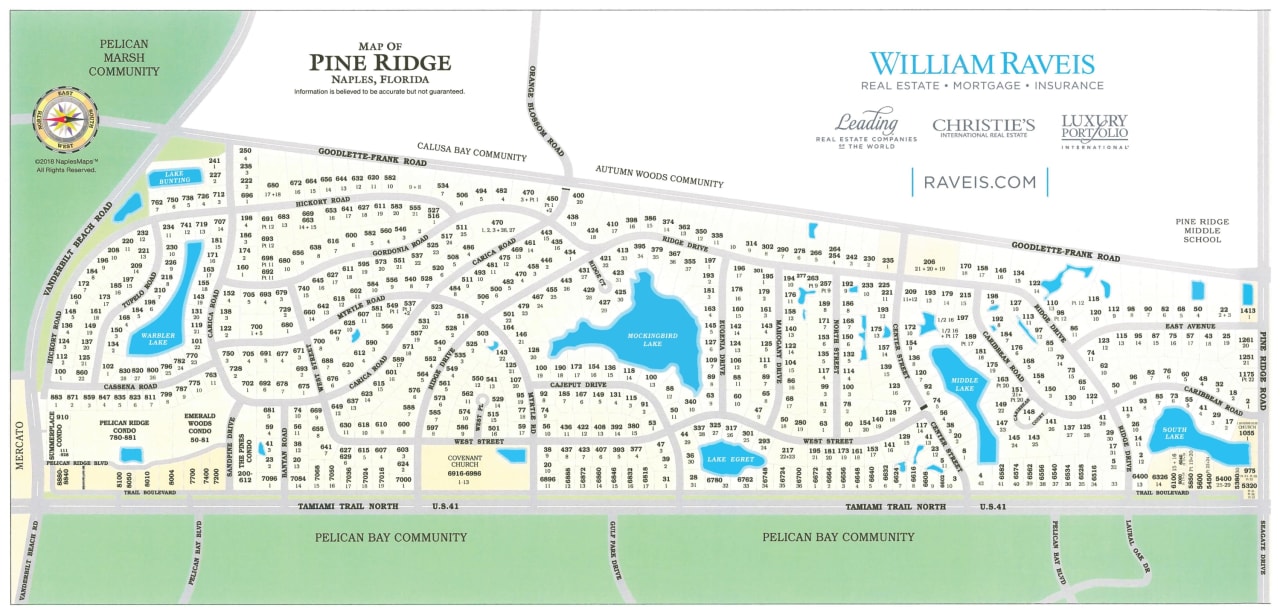 Dining, Entertainment and Shopping
When it comes to dining, there are gems hidden all around Pine Ridge Estates, our favorite which blends farm to table ingredients with 'organic whenever possible'. Looking for a trendy sushi house, check out or the broad choice of dining options at nearby . Here, among the variety of stores and entertainment, you can find an option for every taste, with highlights including , and .
Mercato also provides great choices for a quick selection, coffee at offers something different while a snack at Grain de Café is a great way to start the day. If your idea of a perfect day begins with coffee, and then moves on to a touch of retail therapy, then Mercato has you covered again. Whether it is a big store addiction at Nordstrom Rack, or boutique shopping at , you will surely get lost in time walking Mercato. Before heading home, grab your produce and groceries at .
Mercato has you covered for an evening out as well, is unlike any theatre I've been to, or if cocktails peak your interest, and always have a great crowd to be among. Like to smoke cigars or listen to live music? is one of a kind, featuring cigars and atmosphere. Those looking for a slower evening out , or will have a nice selection to chose from. During the day, Naples art scene thrives, you are never far away from an exhibition, gallery or art sale; , and the are great places to start.
Things to Do In and Around Pine Ridge Estates
Golfing: Being in the center of Naples with 80+ championship golf courses in the area, there are many quality golf clubs surrounding you. offers golf to the public and to members, while , and are a few private courses nearby. For more information on the Top 15 Naples Private Golf Courses, check out this .
Parks and Rec: A short drive away, , and Baker Park allow you to take in the natural beauty of the area. Plan on a picnic, a bike ride, a walk over the Gordon Pass bridge or bring the kids to the playground. The windy roads of Pelican Bay are another option for biking, walking or roller-bladding, with 88 acres of parkland to enjoy. For something different, head to for a journey into the heart of the Everglades ecosystem.
Visiting Naples: If you are visiting the area, there are plenty of attractions to fill your days. Immerse yourself in the history by taking a tour with , or for something different, will not disappoint. If a nautical adventure is more your thing, then the , and bring it to life. If you love the natural world, pencil in the or . To know details of Downtown Naples restaurants worth trying visit this .
Calendar of events: There are a number of events to enjoy all year round, with many focusing on the vibrant art community that has grown in Naples since its beginning. With a number of , if you are looking for arts in particular, then the and bring something fresh every year. also has the very latest on Naples happenings... To know more about Southwest Florida Art Festivals check this .
Visiting Naples: Since Pine Ridge Estes is a quiet residential area, it is short on hotel accommodation, but nearly , , and provide accommodations.
Schooling
Naples has an excellent reputation for its education department, with the from the Florida Department of Education three years running. As of 2020, there are 54,000+ students and 90+ public and private schools throughout Naples with a wide choice of both public and private schools around Pine Ridge Estates neighborhood, including:
Public:
Private:
Visit for more options and information.