Welcome to Aqualane Shores
Where Waterfront and Luxury Living Come Together
Aqualane Shores is a waterfront neighborhood located between Port Royal and Old Naples and features some of Naples's finest homes. The deep-water channels that weave throughout most of Aqualane Shores connect most homeowners to Naples Bay and the aqua blue waters of the Gulf of Mexico. Close proximity to Old Naples Third Street South, Fifth Avenue South, and Crayton Cove dining and shopping, as well as the beach, win the hearts of many.
Aqualane Shores Real Estate Highlights
The Aqualane Shores neighborhood is approximately 0.5 square miles with roughly 20% of that being waterways that provide most property owners with access to Naples Bay and the Gulf of Mexico. Aqualane Shores real estate is located between Old Naples (South of 14th Ave S) and Port Royal and from Gulf Shore Blvd S to Naples Bay. Contact Matt Brown to find waterfront houses & homes for sale in Aqualane Shores, FL.
There are approximately 450 single-family homes in Aqualane Shores.
43 single-family homes sold in Aqualane Shores in 2020 at an average of $5,029,071 ($1,198 per square foot), an average size of 4,290 square feet and an average lot size of 0.35 acres.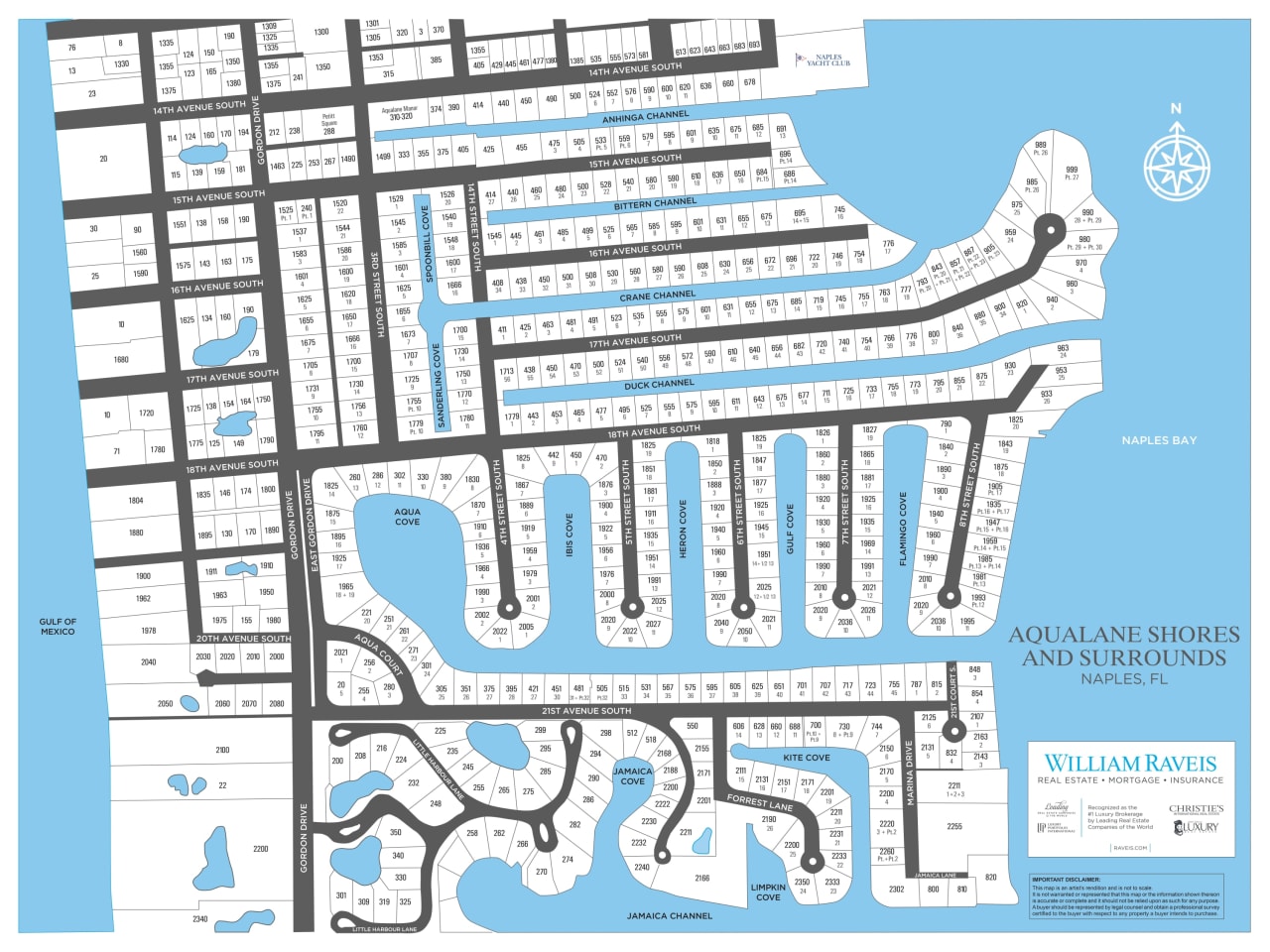 Things to Do In Aqualane Shores
Golf: Aqualane Shores, like most of Naples's luxury neighborhoods, is center stage in the ! With 80+ championship courses in the area, there are many private clubs to consider joining as well as public courses to play. Sharpen your skills...golf is part of the Southwest Florida lifestyle.
Getting on the water: If you like to boat or fish, this neighborhood is perfect for you since you can dock your boat right behind your home. If you don't have a boat of your own yet, can get you on the water maintenance-free. And if the social aspect of boating interests you, there are a plethora of yachting clubs in the Naples area as you might imagine, make sure to check out .
Tennis: Tennis and pickleball are very popular in Naples and played at every membership club, so if that's your game, you are in luck. The award-winning public offers unmatched programming and facilities for all levels. It even includes 12 state-of-the-art Hydro-Grid (sub-irrigated) lighted Har-Tru (clay-like surface) courts!
Staying active: There are miles of paths of parkland to enjoy by bike or foot, so make sure you put and on your activity list.
The arts: If interested in the performing arts, , and will fill your calendar year-round. Make sure you catch the Naples Philharmonic at Artis-Naples! Also, every year there are art shows which pull visitors to Naples from far and wide, the quality of Naples Gallery Row and the upscale art scene of Naples is top-notch and will certainly add entertainment if fine art interests you.
Calendar of events: Naples has a lively calendar of events, with something for everyone. keeps everyone up to date and our schedules full.
Visit for more options and information.
Private:
Public:
Schooling
Naples has an excellent reputation for its education department, with the from the Florida Department of Education three years running. As of 2020, there are 54,000+ students and 90+ public and private schools throughout Naples with a wide choice of both public and private schools around Aqualane Shores neighborhood, including: