Welcome to Vanderbilt Beach
Beach Life Matched With City Amenities
Vanderbilt Beach is an unincorporated beach community in Naples, Florida. As the name suggests, it is best known for its long, pristine and sandy beach. However, that does not mean that Vanderbilt Beach is only a vacation spot. Being just 9 miles from the center of Naples, it is ideally placed for a perfect blend between beach comfort and city amenities. Vanderbilt Beach affords a pleasant residential environment and extensive recreational resources. The community consists of people who live and work in the area year round, seasonal residents and visitors who flock here to enjoy the beautiful weather annually. The neighborhood is largely a condo community but at the same time has a good selection of single family homes, mostly in Naples Park (where investors flock for quality rentals because of it's superb location between Mercato and the beach).
What Makes Vanderbilt Beach Stand Out?
The resort-style community of Vanderbilt Beach stretches approximately 1 mile along the golden, sun-drenched Gulf of Mexico beachfront. This means that it has great housing options for people who are boat enthusiasts. In Vanderbilt Beach you can own property along Gulf Shore Boulevard and north of Vanderbilt beach road, where you can park your boat in your house.
Maintaining the highest quality of life is the driving force behind the planners and residents of this captivating North Naples community. Enthusiasm for the place and the laid-back lifestyle literally wafts on the breeze, enveloping all who venture close.
Condominiums are an expected and welcomed piece of any exclusive, beachfront community. Vanderbilt beach condos blend perfectly with the relaxed atmosphere at the water's edge. Wind-swept balconies, walls of windows, endless panoramic water and scenic land views, plus the soothing powers of sea-salt air are all part of the package.
Starting in the north at the ecologically diverse and picturesque Delnor Wiggins State Park and continuing down the coast as far south as the world-renown on Vanderbilt Drive, this area teems with the grace of nature's gem, the Southwest Gulf Coast of Florida.
Because of its enticing beauty and location, Vanderbilt Beach has many gorgeous public and private golf courses to offer such as the and .
Vanderbilt Beach is home to many exciting clubs like the to indulge in boat sporting activity.
In addition to that, it is cross from Mercato shopping Centre with many other phenomenal restaurants and shops close by to keep you covered of all necessities.
Vanderbilt Beach Neighborhood Real Estate Highlights
The Vanderbilt Beach neighborhood is approximately 0.68 square miles and is located north of Pelican Bay, south of Delnor-Wiggins Pass State Park and between Vanderbilt Drive and the Gulf of Mexico. There are 3,199 residences within the Vanderbilt Beach neighborhood (503 single family homes and 2,696 condominiums).
47 single family homes sold in Vanderbilt Beach in 2020 at an average of $1,958,933 ($683 per square foot), an average size of 2,923 square feet and an average lot size of 0.23 acres.
104 condominiums sold in Vanderbilt Beach in 2020 at an average of $1,005,939 ($531 per square foot) and an average size of 1,611 square feet.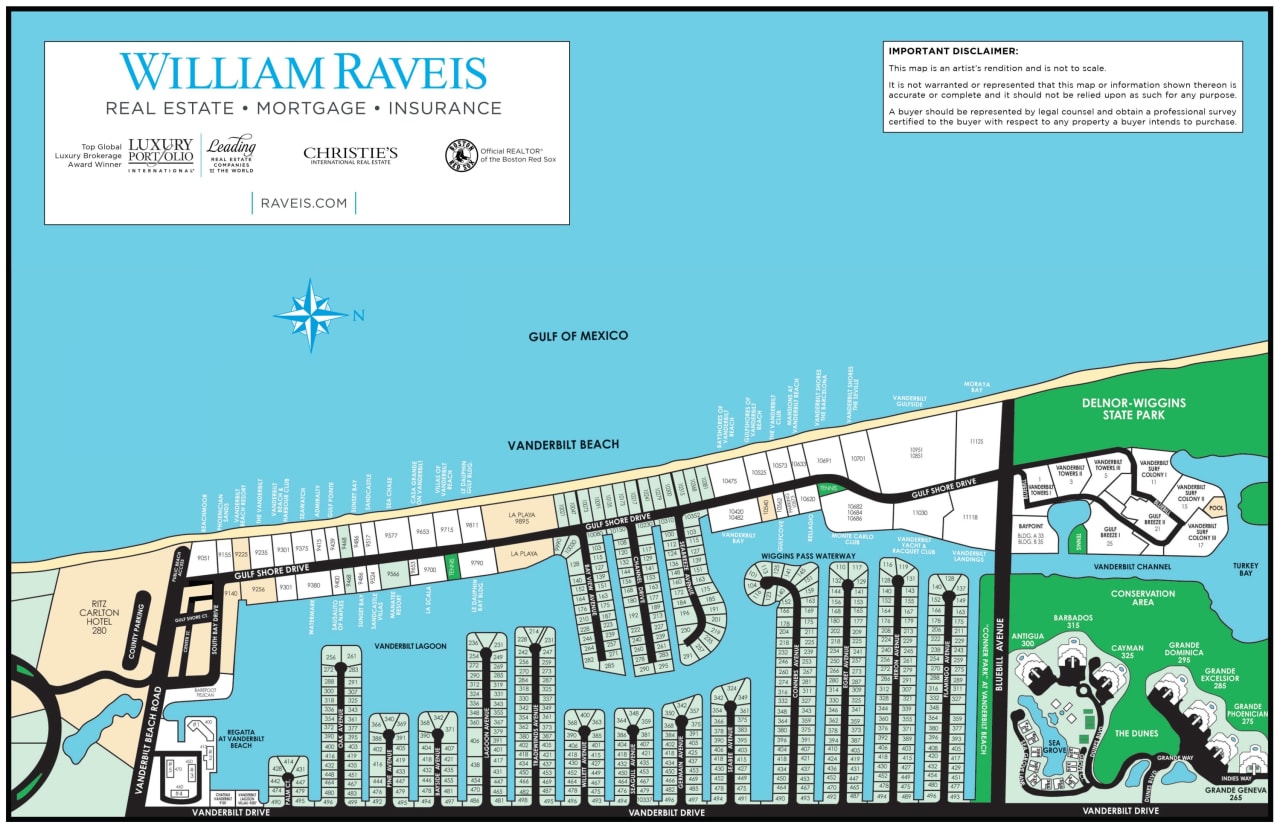 Shopping, Dining and Entertainment
Anchored by Whole Foods Market, Nordstrom Rack and Silver spot Cinema, a 12-screen premier-style theater, offers 12 notable restaurants, over 20 upscale retailers and luxury residential condominiums. Mercato hosts a vibrant year-round event calendar with most events free and open to the public. Mercato is Naples Florida's newest shopping, boating and dining district is just a couple of miles away and is a short drive or bike ride away.
For fine shopping, hit and . Further north, the and the are lush outdoor boutique malls. At the , in addition to a variety of stores and a Whole Foods, you'll find a luxury movie theater. is a typical name brand indoor mall. You may want to do some souvenir shopping at before or after a Naples Bay boat cruise. You can also visit Naples own , but it is small in comparison to others; true outlet enthusiasts will want to head north to the in Estero.
Moreover, Vanderbilt Beach is home to , an outstanding beachfront restaurant and La Playa hotel, one of only a handful of beachfront hotels in Naples. Vanderbilt Beach even has a .
Things to Do In and Around Vanderbilt Beach
is one of the most popular beach accesses, because it is in a prime location near upscale hotels and in the popular North Naples area. Vanderbilt Beach offers wide space for all visitors, gorgeous white sand surroundings, sea oats and rest room access. There is ample car parking, with easy handicap accessibility to the beach, rest rooms and showers. Bicycle racks are located close to the beach.
Do not miss out on great shelling in the early morning and bird watching at all hours. Within the park is a tropical coastal hammock where you can see subtropical vegetation and native wildlife.
Naples is a wealthy beach enclave, with one of the highest proportions of millionaires per capita in the country. You would expect such a well-to-do location to have well-to-do hotels, and Vanderbilt Beach does not disappoint. If you are looking to splurge, stay at the or the Waldorf Astoria.
If you are not looking to splurge, then relax on the 10-mile-long public beach, or window-shop in the cute downtown. Take a break from beach lounging to visit the nearby , , and .
In addition to the fine beaches, top attractions include the , , and that depart from Naples. You will want to take a boat cruise from Naples Bay to view the beautiful Naples homes and see Florida marine life; we recommend the sailing catamaran. In North Naples, the offers nature tours by boat. For cultural activities, Naples has a lot to offer. From the to the to the , you are sure to find what you are looking for. Further, Naples is known to have more golf courses per capita than any other city in the world. You can play your game at clubs like .
operates nature centers, a wildlife rehabilitation facility and a nature store. They offer land and water excursions to experience Florida's vast natural resources.
Schooling
Naples has an excellent reputation for its education department, with the from the Florida Department of Education three years running. As of 2020, there are 54,000+ students and 90+ public and private schools throughout Naples with a wide choice of both public and private schools around Vanderbilt Beach neighborhood, including:
Public:
Private:
Visit for more options and information.