Welcome to Royal Harbor
Waterfront Properties Close To Naples Bay
If waterfront living and the incredible Naples boating lifestyle are what you are looking for, Royal Harbor offers both. Today, Royal Harbor is home to about 540 single family homes but does offer a few condos. Newly constructed luxury homes that take full advantage of the waterside location.
What We Love about Royal Harbor
Royal Harbor Real Estate Highlights
The Royal Harbor neighborhood is approximately 0.43 square miles and is located on the east side of Naples Bay, south of US 41, directly across Naples Bay from Old Naples, Aqualane Shores and Port Royal. There are approximately 544 single family homes within Royal Harbor.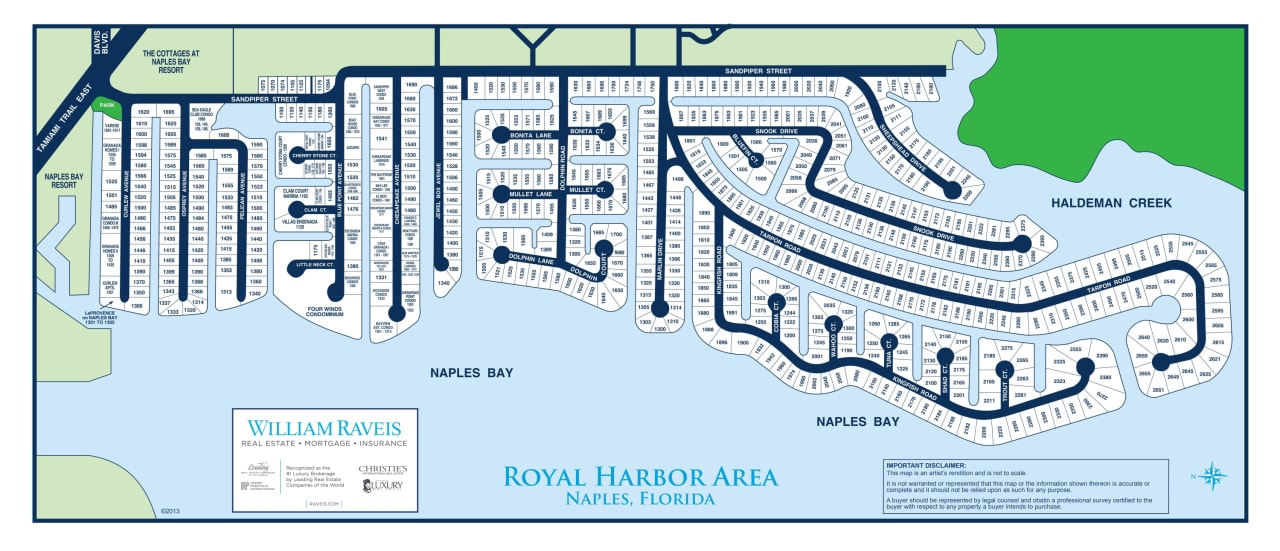 Dining, Entertainment and Shopping
Royal Harbor is just a mile from world-class shopping and dining in Old Naples on either or . On Third Street South, and are highlights, while Fifth Avenue South is home to and among others. You can also enjoy more casual dining in Tin City, with or . Another notable option for food is , a permanent food truck park hard to find outside of the Bayshore Arts District.
For your retail adventures, there are a wide choice of shops in Old Naples, ranging from designer brands to local crafts and gift shops.
Grocery shopping is covered by , a local family run business which also runs (organic general store) and in North Naples (both a car ride away from Royal Harbor but worth the time). Oaks Farms is one of the largest independently owned agribusinesses in South Florida, and it can trace its history right back to the 1930's, still under the same family ownership.
Things to Do in Royal Harbor
Golf: is a private, members-owned club, which is open non-residents of Windstar. The club is Naples only gated golf community on the bay, which offers a marina and a private beach with 3 levels of membership. Naples is considered the with 80+ championship courses, so there are other great courses to chose from outside Royal Harbor. If you check out some of the other Naples neighborhoods, you will see my other favorite courses. For more information on the Top 15 Naples Private Golf Courses, check out this .
Enjoy tranquility of nature: Locals and visitors alike love the , a 170-acre natural paradise where you can enjoy the sights and aromas of plants from all over the world in a beautiful garden setting. If kids are involved in your adventures the is also a must!
Artistic expression: houses many shops and restaurants but draws an auidence for paint classes for all ages.
Getting on the water: If you don't have a boat of your own yet, can get you on the water maintenace free. Or if looking to take just an excursion, check out , , or . Get more information about popular yacht clubs and marinas in this .
Visiting Naples: If visiting South Naples near Royal Harbor, check out the or for comfortable accomodations. There are several well-organized tours of the city that let you sit back and soak in everything that Naples has to offer, giving you an excellent look at why so many think Naples is the best place in the country to call home. For a trip back in time, the , and take you through the history of Naples and its fabulous neighborhoods including Old Naples. To know details of Downtown Naples restaurants worth trying visit this .
Schools
Naples has an excellent reputation for its education department, with the from the Florida Department of Education three years running. As of 2020, there are 54,000+ students and 90+ public and private schools throughout Naples with a wide choice of both public and private schools around Royal Harbor, including:
Public:
Private:
Visit for more options and information.