Welcome to Port Royal
Exclusive Waterfront Private Estates
Whether it's the oceanfront mansions with direct Gulf of Mexico beach access or the homes that line the many wide canals providing easy, bridge-free access to the ocean in minutes, Port Royal is all about life on the water. Most homes provide boat docking accommodations right in your backyard, while marinas such as the Hamilton Harbor Yacht Club cater to those looking for full service. This is a community designed from the ground up to be the ultimate haven for boating, named after the famous Jamaican Port that was home to pirates and lavish wealth in the 17th Century.
One of the most famous neighborhoods in Naples, Port Royal has grown to be a fabulous place to live among the elite. If you are looking for the most luxurious real estate and oceanfront homes in Southwest Florida or want to be a member of the famous , Port Royal is your Naples Luxury Neighborhood.
What Makes Port Royal Stand Out
An exclusive neighborhood built for privacy. With unique neighborhood branding and its unique location, Port Royal deserves their most expensive neighborhood in the United States accolade by in 2018.
Easy ocean access via Gordon Pass or Keewaydin Island, provides boaters their paradise...miles of area estuaries and mangroves become easily navigable which feeds the beautiful calm waters of the Gulf of Mexico.
The Port Royal Club and facilities. Certain Port Royal homes provide eligibility for membership of the ultra-exclusive . With beachside dining, a vibrant tennis scene, state of the art fitness center, and a thriving calendar of year-round events, you will love the activities as much as the company.
Historical significance and old banyan trees frame picturesque exclusive homes along the famous Galleon Drive and Gordon Drive. These trees have lived through the entirety of Port Royal's life, and are a reminder of the history of this unmatched neighborhood. In the 1950's John Glen Sample wanted to create a hideaway for the wealthy, he promised to build the "finest place in the world to live," adding "it can never be duplicated" which has proved true in many ways.
Port Royal Neighborhood Real Estate Highlights
The Port Royal neighborhood is an area of approximately 1.5 square miles, roughly 30% of that being waterways that are navigable to the Gulf of Mexico. Port Royal consist of 640 single-family homes and no condominiums. The Port Royal area is about 2 miles North to South along the Gulf of Mexico and 1 mile from East to West at the widest from Naples Bay to the Gulf. Contact Matt Brown to find waterfront property, oceanside houses & luxury homes for sale in Port Royal, FL.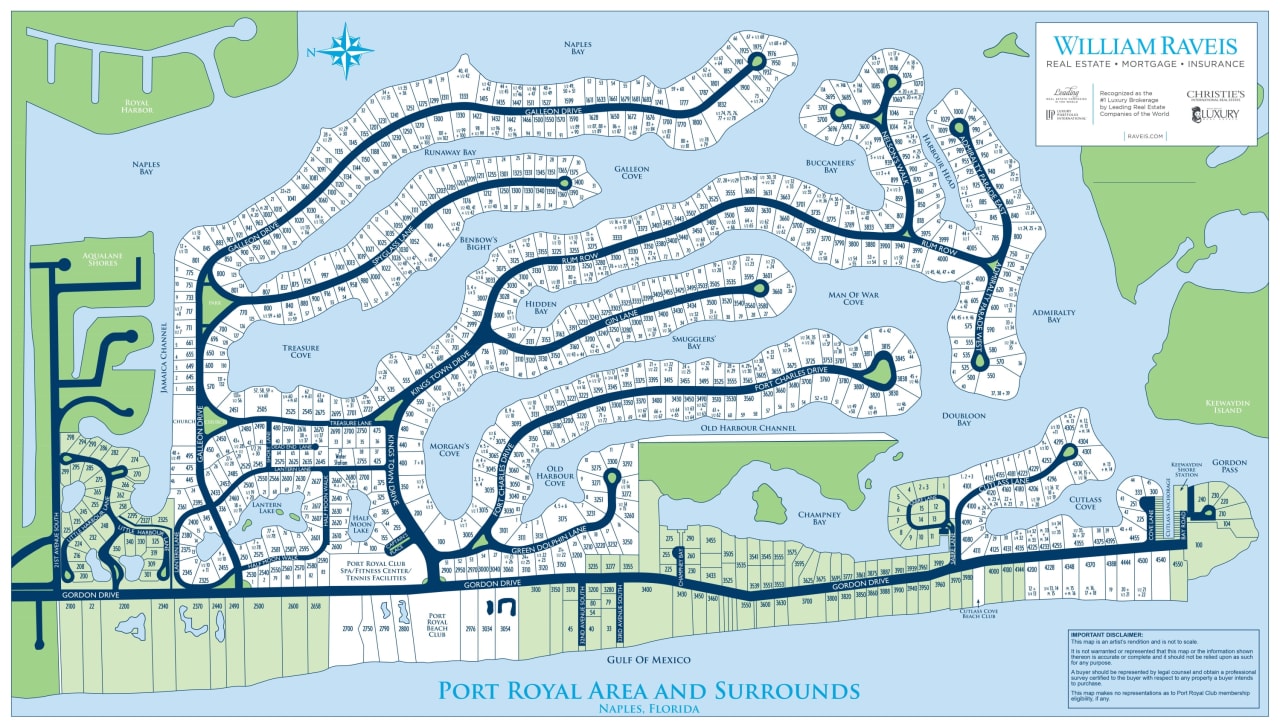 Dining, Entertainment and Shopping
For truly exclusive entertainment, dining, socializing and more, is restricted to homeowners in the community. Old Naples offers and which are two iconic venues with impressive lists. There are so many places to recommend and it's hard to pick favorites but and won't disappoint. And if venturing to 3rd Street South, try or , their outdoor setting and atmosphere give you the Southwest Florida lifestyle we all desire.
Similar to downtown Naples dining, shopping at both and are equally impressive. Walking along both downtown streets, you will be drawn to unique boutiques, cute gift shops, and more. And while you venture, there are plenty of pick-me-up local options we recommend trying; , , , and all get my business frequently.
Sitting on the water, Port Royal is the doorway to an entire ocean of entertainment for boat lovers, but there's more than just life on the water to be found here. Away from the water, you can bask in the 170 acres of plants and parkland in the , enjoy performances at or , or enjoy the plethora of artistic events by .
Things to Do in Port Royal
Golf: As one of the premier with 80+ championship courses, Naples is home to golfing for all levels and competitiveness. If you are looking for private memberships, and are good places to start. For more information on the Top 15 Naples Private Golf Courses, check out this .
Boating: Away from the links, you can indulge your love of boating at a number of yacht clubs. and providing fantastic amenities and wonderful communities of like-minded individuals. Get more information about popular yacht clubs and marinas in this .
Calendar of events: Naples has a vibrant calendar of events covering everything from exhibitions to festivals. With something for everyone, alongside a number of location-specific options at and , there is always something to see or do in Naples.
Where to stay: Visitors can enjoy a broad choice of hotels covering every taste and need in Naples. Highlights include , , , and . To know details of Downtown Naples restaurants worth trying visit this .
Schools
Naples has an excellent reputation for its education department, with the from the Florida Department of Education three years running. As of 2020, there are 54,000+ students and 90+ public and private schools throughout Naples with a wide choice of both public and private schools around the Port Royal neighborhood, including:​​​​​​​

Public:
Private:
Visit for more options and information.