Welcome to Moorings
Waterfront Access in the Heart of Naples
Located between Coquina Sands to the south and Park Shore to the north, The Moorings neighborhood is known for excellent Gulf and beach access opportunities in a mature and quiet setting. Originally purchased in 1957 by a development company owned by Milton Link, The Moorings comprises more than 1,300 acres with approximately 4,000 homes and condominiums. If you are looking for a gorgeous selection of luxury living, private waterfront access and close proximity to popular landmarks and attractions the moorings-coquina sands area is the place to be.
What Makes Moorings Stand Out
Located between US 41 and the Gulf of Mexico, Moorings is in close proximity to all amenities including, shopping malls, restaurants, coffee shops and grocery stores.
Beautiful canopied trees and quiet streets near desirable shopping, dining, and entertainment make for an idyllic lifestyle for convenient coastal living.
Waterfront property owners and other boating, kayak and paddle board enthusiasts may easily access the Gulf and Moorings Bay through Doctors Pass.
Moorings property owners are also eligible to join the which gives members Moorings Beach Park parking privileges, access to member events, and pertinent news and information.
Real estate prices in this neighborhood varies, ranging in the thousands and beyond. This means that regardless of your budget, you can find a dreamhouse in Moorings.
Moorings has many clubs and golf courses to offer. There is also a clubhouse and many membership packages available. This will allow you to play golf there and also take part in social gatherings.
Another fantastic reason for living in Moorings is access to the water. Taking your boat out onto the Gulf of Mexico is a definite possibility, and you should be able to find one that is affordable.
The neighborhood of Moorings is beautiful with plenty of green spaces, tall tropical trees, sandy beaches and the warm sea. Living in Moorings will be like a vacation experience every day.
Moorings Neighborhood Real Estate Highlights
The Moorings neighborhood is approximately 1.4 square miles and is located south of Park Shore, north of Coquina Sands and between the Gulf of Mexico and US 41. There are 3,841 residences in the Moorings neighborhood (847 single family homes and 2,994 condominiums).
87 single family homes sold in the Moorings in 2020 at an average of $2,651,659 ($696 per square foot), an average size of 3,713 square feet and an average lot size of 0.34 acres.
149 condominiums sold in the Moorings in 2020 at an average of $773,061 ($482 per square foot) and an average size of 1,459 square feet.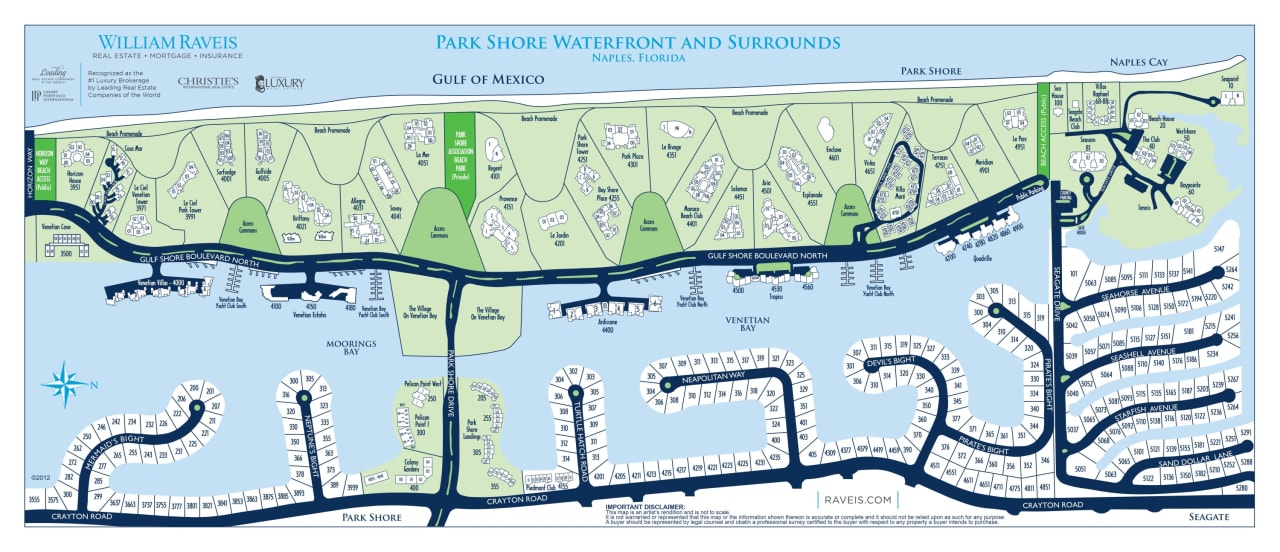 Shopping, Dining and Entertainment
What is beneficial about living in Moorings is the close proximity of shops and stores. Essentially, when you leave Moorings, you will go north or south just a couple of miles. Some people might think that they put these shops in place so that people in Moorings would only have to travel a few minutes to get food, furniture, and any other product that they will need in the shortest period of time.
Anyone that has lived in Naples for some time is well aware of the top destinations to go shopping. , , and the iconic on Venetian Bay are destinations that you will find many people shopping. If you are looking for name brand sunglasses, the Sunglass Hut is a great place to go.
If you go south, you can find Fifth Avenue shopping. You can enjoy an unmatched shopping experience at both and , each with a fantastic selection of clothing stores, cute gift shops and more. If you fancy a coffee while you are out, there are some fantastic options here too, with the , , , and ; all offering quality coffee and a great ambience to enjoy.
A famous attraction that residents enjoy is The Naples Beach Hotel and Golf course. If you want something more exciting and fun than choose other popular attractions like the and Mooring Plaza which is in close walking distance for all residents.
Things to Do in and Around Moornings
Golfing is the most common pastime activity in Moorings. It claims fame to one golf course, the , which is a 18-hole, 63-par golf course loved by all. and are other quality golf courses near by.
Mooring has a lively pub scene. Pubs like offer culture as well as entertainment to their guests. You can find Irish sets that are local but also incorporate some of the more popular polka sets from Clare, Galway and elsewhere. On Sunday nights you can participate in an open Traditional Music Session where local musicians play and sing traditional music and visiting musicians and singers are encouraged to take part.
For those who like to see nature up close, the and are in close distances to visit. The Naples Zoo is full of unique animals from around the world that will amaze you every time you visit. After a day at the zoo, botanical gardens offer a peaceful space that is lush green and fragrant with thousands of eye catching flowers.
Schooling
Naples has an excellent reputation for its education department, with the from the Florida Department of Education three years running. As of 2020, there are 54,000+ students and 90+ public and private schools throughout Naples with a wide choice of both public and private schools around the Moorings neighborhood, including:
Public:
Private: